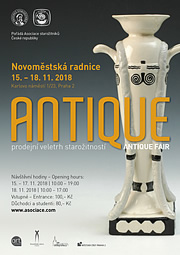 Czech Antique Dealers Association arranges Antique Fair twice a year – spring and autumn. Since 2010, the fair takes place at the Karlovo náměstí in Novoměstská radnice (New Town Hall).
Antique Fair Dates 2019
43rd Antique Fair – Spring 2019
Date: 11.–14. 4. 2019
44th Antique Fair – Autumn 2019
Date: 14.–17. 11. 2019

Rudolfínská akademie is a two-year re-training program for antique dealers. Lectures take place from September to June in the city center. Applicants can fill out an application form online.