Antique Fair
Antique Fair is organized by Antique Dealers Association of the Czech Republic.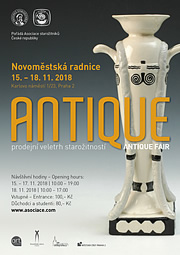 42nd Antique Fair – Autumn 2018
Date: 15.–18. 11. 2018
Venue: Exhibition hall Novoměstská radnice
Opening hours:


15.–17. 11. 2018

10.00–19.00


18. 11. 2018

10.00–17.00
100 Years of Czech Design
From November 15 till November 18, Prague´s New Town City Hall (Novoměstská radnice), the traditional venue for Prague´s Antique Fair, will host its 42nd round. Through its main topic – transformation of Czech design – the fair will be yet another reminder of the centenary of forming the Czechoslovak Republic.
"Looking back at the history of applied arts we clearly see that creators have always pursued not just the utility of objects but also their appearance, their aesthetic impact. Yet only when modern production techniques took place resulting in much wider scale of products, the process of production was clearly divided from the process of designing. Design defined widely as conception and original image of the intended product is an outcome of the 19th century industrial revolution," says Simona Šustková, vice-president of the Czech Antique Dealers Association.
Antique Fair will remind its visitors of the fact that Czechoslovak and Czech designers took their part in shaping the history of design during the past 100 years. The expositions as well the accompanying program of the fair will focus on iconic works and the most influential local designers such as Ladislav Sutnar, Adolf Loos, Josef Gočár or Pavel Janák.
Veletrh Antique, jaro 2018