Antique Fair
Antique Fair is organized by Antique Dealers Association of the Czech Republic.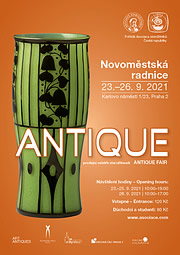 45th Antique Fair – Autumn 2021
Date: 23.–26. 9. 2021
Venue: Exhibition hall Novoměstská radnice
Opening hours:


23.–25. 9. 2021

10.00–19.00


26. 9. 2021

10.00–17.00
Czech glassmaking – art and craft admired by the world
Czech glass has experienced at least three periods in history when it stood on top and was the subject of admiration from all over the world. It was not only a sign of cultural and artistic maturity of the Czech lands but also an important economic commodity. In addition, today's creators and designers successfully continue the historical tradition of Czech glassmaking and glass continues to attract the attention of the general public. These are the reasons why the Antique Dealers' Association has made antique glass the theme of the 45th Antique Fair.
Among the historical highlights of Czech glassmaking is undoubtedly the Baroque period when Czech engraved and cut glass was imitated by artisans all over the world, even in Venice. Another wave of fame for Czech glassmaking came with the artifacts in the style of Empire and Biedermeier: Czech glassworks focused on the production of opaque colored glass of new composition and shades. For the third time, Czech glass stood out in the Art Nouveau period, when for example the Czech glassworks of J. Loetz in Klášterský Mlýn began to adopt new designs and recipes for molten glass as the first in the world, and its glass was highly appreciated at the World Exhibition in Paris in 1900 alongside with the production of the famous Tiffany glassworks and the Daum glass studio.
All three historical highlights of the Czech glass industry will be presented in a non-selling exhibition of the Association of Antique Dealers and will also be on offer at the stalls at the 45th Antique Fair which takes place from 23rd to 26th September in the New Town Hall in Prague.
Antique Fair, Autumn 2019